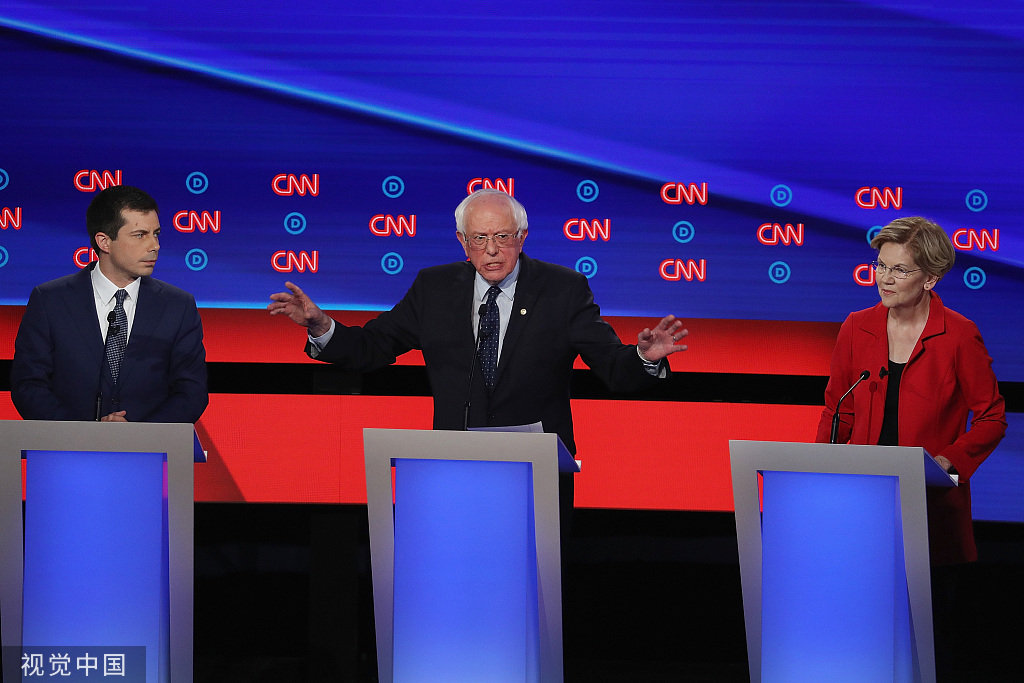 The issues of healthcare and immigration highlighted a divide among the Democratic presidential field on Tuesday, with ideological differences apparent between progressive and moderate candidates.
Going into the first evening of the second round of debates at the Fox Theatre in downtown Detroit, Michigan, the challenge for two of the top-tier Democratic presidential candidates — US Senator Elizabeth Warren of Massachusetts and US Senator Bernie Sanders of Vermont — was how they could differentiate themselves from each other, as they both favor universal healthcare and rail against excessive corporate profits.
In a spirited debate on the issues, the senators defended their progressive stances against a couple of upstart, moderate candidates — Montana Governor Steve Bullock, making his first debate appearance, and former Maryland congressman John Delaney. Both men made a noticeable effort to stand out from the field.
Sanders, meanwhile, was looking to bounce back from what many considered a middling performance in the first debate. The 77-year-old native New Yorker was booming and forceful in defense of his positions.
"Right now we have a dysfunctional healthcare system. Eighty-seven million uninsured or underinsured, 500,000 Americans every year going bankrupt because of medical bills, 30,000 people dying while the healthcare industry makes tens of billions of dollars in profit. Five minutes away from here, John, is a country called Canada. They guarantee healthcare to every man, woman and child as a human right," Sanders said.
Delaney responded that "we don't have to go around and be the party of subtraction and telling half the country who has private health insurance that their health insurance is illegal. My dad the union electrician loved the healthcare he got from the IBEW (International Brotherhood of Electrical Workers)."
Delaney earlier suggested that it was "bad policies like universal healthcare that got Trump elected".
"We are the Democrats," Warren replied to Delaney. "We are not about trying to take away healthcare from anyone. That's what the Republicans are trying to do. And we should stop using Republican talking points in order to talk with each other about how to best provide that healthcare."
Warren earlier said that the current healthcare system is "working great for insurance companies and drug companies", which she said "do not have the God-given right to make $23 billion in profits".
Another flashpoint was immigration, particularly whether entering the country undocumented should be decriminalized, which Warren favors.
"You are playing into Donald Trump's hands," Bullock told her.
Sanders said the president was "demonizing a group of people. A mother and child walk thousands of miles on a dangerous path, they are not criminals. Bring the entire hemisphere together to talk how we rebuild Honduras, Guatemala and El Salvador."
Ohio Congressman Tim Ryan, who opposes decriminalizing entry by migrants at the US' southern border, replied: "If you want to come into the country, you should at least ring the doorbell."
Also on the stage Tuesday were author Marianne Williamson; US Senator Amy Klobuchar of Minnesota; Mayor Pete Buttigieg of South Bend, Indiana; Beto O'Rourke, former congressman from Texas; and John Hickenlooper, former governor of Colorado.
The lineup for Wednesday's debate, same time and location as Tuesday's, includes a rematch between former vice-president Joe Biden and US Senator Kamala Harris of California. Harris surged in the polls after the first debate when she went after Biden for his opposition to school busing in the 1970s to racially integrate schools.
Also on the stage Wednesday will be US Senator Michael Bennet of Colorado; US Senator Kirsten Gillibrand of New York; Julian Castro of Texas, former secretary of Housing and Urban Development; US Senator Cory Booker of New Jersey; entrepreneur Andrew Yang of New York City; Hawaii Congresswoman Tulsi Gabbard; Washington state Governor Jay Inslee; and New York City Mayor Bill de Blasio.