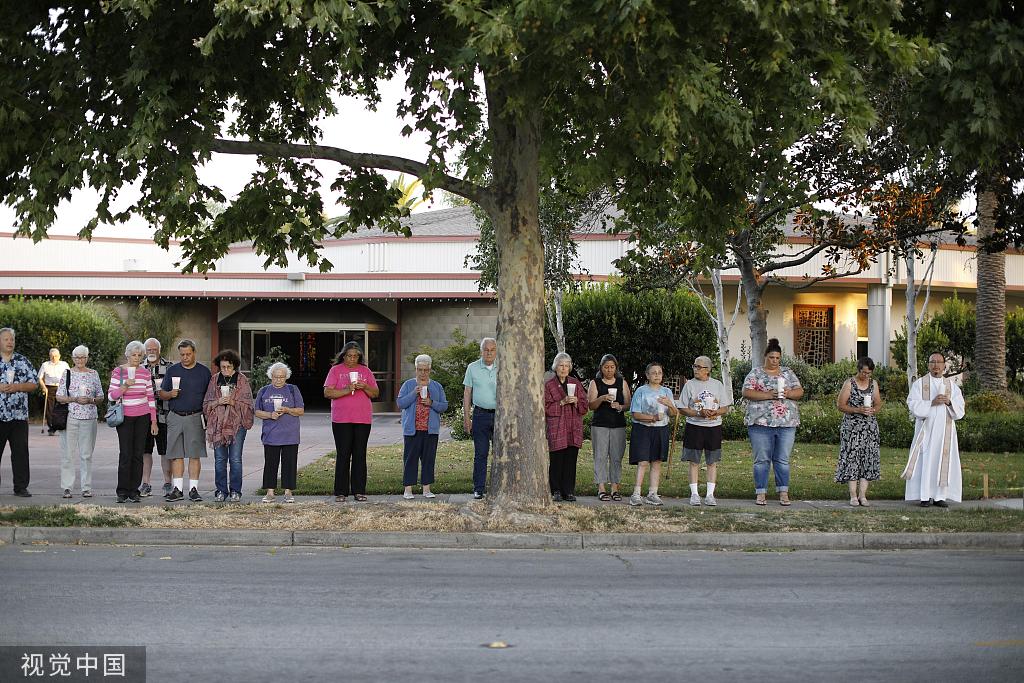 The mass shooting in Gilroy, California, is fueling renewed debate in the state and across the country about interstate gun trafficking, especially when bordering states have comparatively weak gun laws.
The shooting on Sunday at the Gilroy Garlic Festival left three people dead and 12 others wounded before police shot and killed the 19-year-old gunman, Santino William Legan.
Authorities said that on July 9 in Fallon, Nevada, he legally bought the military-style semiautomatic rifle used in the shooting. Fallon is a six-hour drive from Gilroy.
California is among the states with the most stringent gun laws in the US. It's illegal to sell handguns to anyone under age 21, while the federal minimum age to purchase a firearm is 18. The state also has banned assault weapons since 1989, which inspired a 10-year federal assault weapons ban that expired in 2004.
A new law, which went into effect on July 1, makes California the first state to require background checks for every ammunition purchase.
But state officials can't stop firearms flowing into the state from neighboring Nevada and other places where gun laws are less stringent, said California Attorney General Xavier Becerra.
"The reach of the California law ends at our borders, and so we cannot control what other states do, and that's what makes it so tough," he said at a news conference on Monday.
"California's doing its part," Governor Gavin Newsom told reporters when he visited the Gilroy shooting victims at the Santa Clara Valley Medical Center on Monday. "But the folks in the White House have been supporting the kinds of policies that roll back the work that we're doing in states like ours to get rid of large-capacity magazines, to address the issues that we're trying to advance on background checks."
Newsom pushed for the background-check system when he was lieutenant governor.
A bill has passed the Democrat-controlled House of Representatives for mandatory background checks nationwide, but no vote has been scheduled in the Republican-led Senate.
A 2017 study found that in the two weeks after a gun show in Nevada, gun-related injuries and deaths jumped in nearby California cities.
In that same year, data from the Bureau of Alcohol, Tobacco, Firearms and Explosives show that 24,130 of 41,527 firearms recovered and traced in California in 2017 were from other states, or 60 percent of the total.
Nevada voters passed a ballot measure in 2016 requiring a background check for firearm transactions between private parties, including at gun shows. But the state attorney general put it on hold, saying it wasn't enforceable.
The top source states for California's recovered firearms include Arizona, Nevada and Texas, which are scored "F", "D" and "F", respectively, in terms of gun-law strength, by the San Francisco-based gun-control group Giffords Law Center to Prevent Gun Violence.
So far this year, more than 32,000 gun-violence incidents have occurred in the US, including 248 mass shootings, and 8,534 people were killed, according to Gun Violence Archive, a not-for-profit corporation.
A new study — "American firearm homicides: The impact of your neighbors" — found that states with strong gun laws, such as California and Illinois, have increased rates of gun crime and homicide when they border states with weak gun laws, such as Arizona and Indiana.
To stop the illegal purchase of trafficked weapons, Congresswoman Robin Kelly on Tuesday introduced the "Preventing Gun Trafficking Act", which would prevent prohibited purchasers from obtaining guns by creating a federal firearms trafficking statute.
"One of our greatest challenges to combating gun violence in our communities is that Illinois is an oasis of commonsense safety laws surrounded by a desert of misguided 'guns everywhere, rules nowhere' ideology," Kelly said in a statement on Wednesday.
"In fact, more than half of all crime guns used in Chicago come from outside Illinois, largely from the bordering states of Indiana and Wisconsin, which have extremely weak laws," she said.
David Chipman, senior adviser at Giffords Law, said in a statement on Wednesday: "Too often, law enforcement faces the tough job of solving a gun crime after a tragedy. It's time to put more focus on stopping criminals before they get a firearm and put communities at risk."
Gun-trafficking is a nationwide problem, and officials say the Northeast is a major center of gun trafficking.
Though New York and New Jersey also have gun laws that rank among the tightest in the country, firearms flow up Interstate 95 from the South into both states through what has become known as the "Iron Pipeline".
Between 2010 and 2015, 3 of every 4 guns recovered by authorities in New York state whose state of origin could be determined came from outside New York, officials said.
Neighboring New Jersey contributed less that 1 percent of New York's trafficked guns. But almost half of them came from six states with comparably lax gun laws, according to data from the New York attorney general: Pennsylvania, Virginia, North Carolina, South Carolina, Georgia and Florida.
For the first quarter of 2019, more than 4 of every 5 identified guns used in crimes in New Jersey came from out of state, largely from the same pipeline that feeds New York.
With few exceptions, officials said that those states allow sales between private parties at gun shows without background checks, as well as handgun purchases without first obtaining a permit.
State and local officials, gun-control advocates and others say the real solution to gun trafficking lies in changes to federal law that states will have to follow.
Only Congress and the president can set a baseline, such as universal background checks, an assault weapons ban, and requiring a license to buy and own a firearm.
The day after the Gilroy shootings, House Speaker Nancy Pelosi, Democrat of California, sharply criticized the Senate for not advancing gun-control legislation.
"Enough is enough. Congress has a responsibility to every family torn apart by gun violence to act, and help advance a future that is finally free from this senseless violence," Pelosi said. "Every day the Senate refuses to act is a stain on the conscience of our nation."