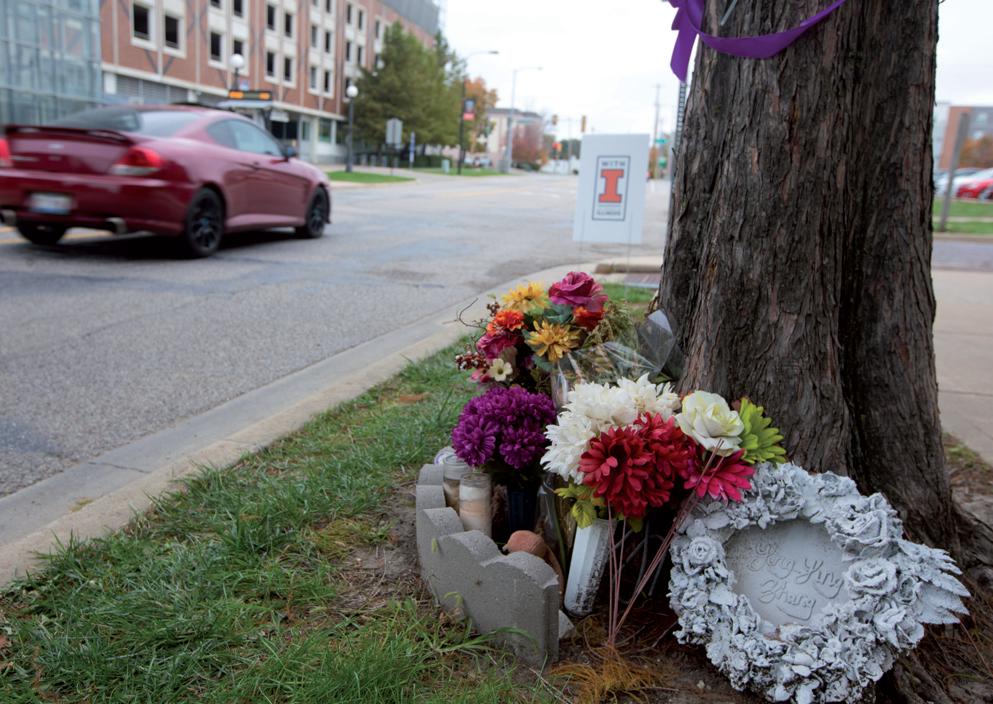 An attorney representing the family of murdered Chinese scholar Zhang Yingying said rumors that her remains could be in an Illinois landfill are inaccurate.
The attorney, Wang Zhidong, said Zhang's family has scheduled a news conference for 10 am on Wednesday in Champaign, Illinois. Wang provided no other details.
The local News-Gazette reported that Steve Beckett, who also represents Zhang's family, said the information about the remains came from lawyers representing her convicted killer, Brendt Christensen, 30.
"The information was provided to the prosecution under an immunity agreement. This information came from the defense lawyers, and that information indicated that the remains, as it traced down, could be found in a landfill in Vermilion County," the report quoted Beckett as saying.
Christensen was convicted in federal court in Peoria, Illinois, last month and sentenced to life in prison after a federal jury could not agree on whether he should be executed.
After the sentencing, Zhang's family members stood outside the courthouse to beg him to reveal the location of the 26-year-old woman's body.
"If you have any humanity left in your soul, please end our torment," said her father, Zhang Ronggao. "Please let us bring Yingying home."
Beckett had originally arranged a news conference for Friday, but rescheduled it for the next day, The News-Gazette reported. Zhang's parents had intended to join Beckett, but were waiting for their other lawyer, Wang Zhidong, to arrive from China.
Sharon Paul, a spokeswoman for the US Attorney's Office, declined to comment on Beckett's statement.
The family had travelled to Peoria from China for the trial, during which prosecutors told the court that Zhang got into Christensen's car on June 9, 2017, in Urbana, Illinois, and was taken to his apartment.
There, she fought for her life as he bludgeoned her with a baseball bat, raped her and stabbed her in the neck before decapitating her.
Zhang's remains were never found, but prosecutors said her DNA was matched to blood later found in three spots inside Christensen's bedroom.
In late 2017, Christensen's lawyers started negotiating a possible plea agreement with the prosecution, in hope that he would be spared the death penalty in exchange for revealing where Zhang's remains were.
But Christensen's lawyers said finding the body was something "over which he had no control. … He could not guarantee that the victim's remains would be found."
They suggested that a deal should be contingent only on Christensen's providing information about her remains and not their actual recovery.
Prosecutors ultimately abandoned the idea of a plea deal after concluding that Christensen likely destroyed the remains.
Zhang's family said in a statement in June that they were aware of the offer and had told prosecutors they wanted "truthful" information from Christensen that would allow them to find the remains. But they "were leery" because "he had lied so many times in the past".
After Christensen's sentencing last month, US Attorney John Milhiser said investigators would continue the search for her remains.
"The efforts to locate Yingying have not stopped," he said. "They started two years ago and they'll continue."
Meanwhile, a memorial service scheduled for Zhang, who was a postgraduate student at the University of Illinois Urbana-Champaign at the First Baptist Church at Savoy, has been postponed, according to The News-Gazette.
"The family was very apologetic, realizing what we put into planning it," Pastor Chuck Moore said. "We want to do what's in their best interest and when they're ready for it. We're totally supportive of their decision."
The Associated Press has contributed to this story.