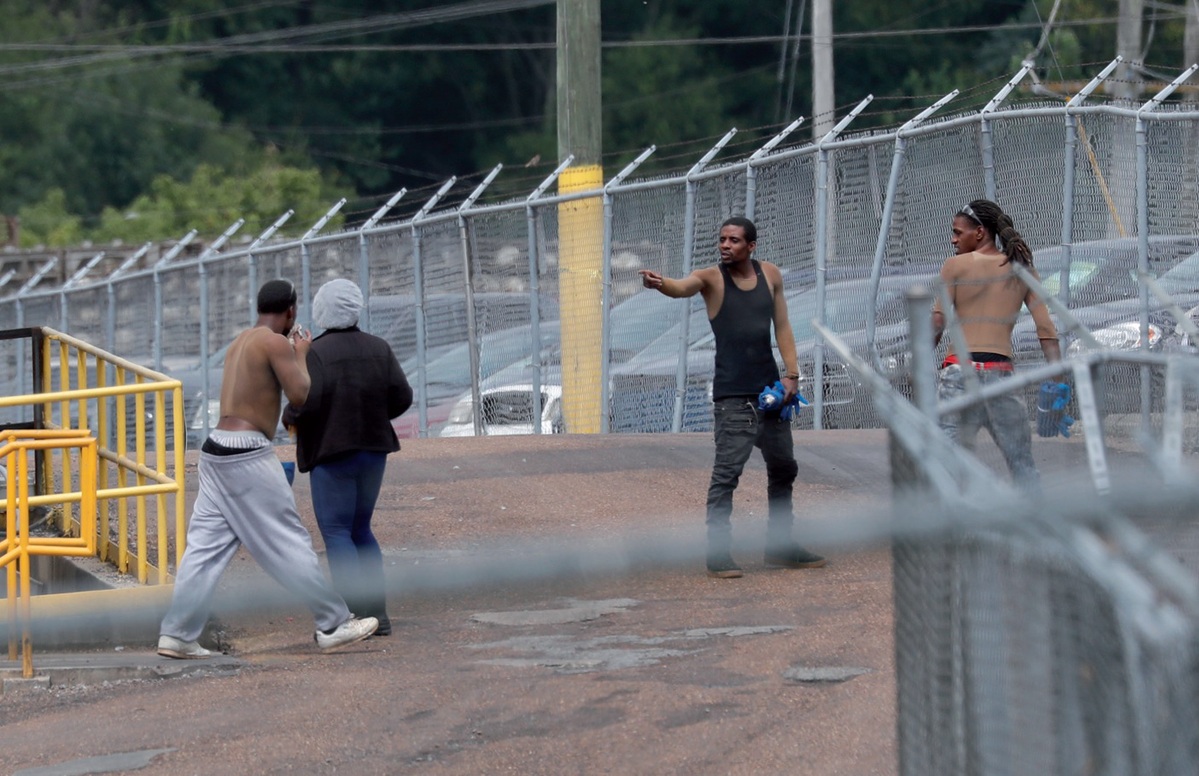 300 of 680 arrested at poultry plant, suspected of being in US illegally, released after processing; volunteers provide aid to families
About 300 of the 680 immigrant workers arrested by federal authorities at seven poultry processing plants in Mississippi were released on Thursday as church groups, schools and other volunteers prepared to take care of children whose parents remained in custody following the raids.
About 30 workers were released at the plants east of Jackson, the state capital, and about 270 were released from a nearby military base where they were taken to be processed. No court dates were immediately set to determine if those held or released will be deported.
"Not everyone is going to be detained," Bryan Cox, a spokesman for US Immigration and Customs Enforcement (ICE), said in a statement.
The raids, conducted Wednesday by about 600 officers from ICE and Homeland Security Investigations (HSI) in conjunction with the US attorney's office for the Southern District of Mississippi, were the largest since April, when agents arrested more than 280 people, suspected of being in the US illegally, in Texas in what then was called the largest worksite roundup in 10 years.
In 2006, about 1,200 immigrants were arrested at food-processing plants in Colorado, Nebraska, Texas, Utah, Iowa and Minnesota.
"HSI's worksite enforcement efforts are equally focused on aliens who unlawfully seek work in the US as well as the employers who knowingly hire them," Jere Miles, special agent in charge of the New Orleans office, said in a statement. "The execution of federal search warrants was about enforcing the rule of law in our state and throughout the country."
A spokeswoman for Koch Foods, which operates three plants in the region, told China Daily the company had no comment on the raids. Koch Foods is a privately held company and is not affiliated with Koch Industries or the Koch brothers, who contribute to Republican candidates and support libertarian causes.
Joanna King, spokeswoman for the Catholic Diocese of Jackson, said attorneys from around the nation have volunteered to represent those arrested.
"Concerns about food and clothing are being taken care of at the parish level," she told China Daily. "Our next concern is the financial needs of the families. Many have paid rent but now have no income."
Chad Harrison, assistant superintendent at the Scott County School District located about 47 miles (75 kilometers) east of Jackson and near several food-processing plants, said teachers told students about the raids and tried to comfort those whose parents were detained.
He said the school district has 4,024 students, including 576 Hispanics, or about 14.31 percent of total enrollment. Most Hispanic students are young and enrolled in elementary or middle schools. On Thursday, 153 Hispanic students were absent, but Harrison said the school district didn't know if their parents had been swept up in the raids.
"We're trying to make it a routine day," Harrison told China Daily. "We have translators at the schools, and the federal agencies have been very helpful and will help with reunification. No students stayed at school overnight — they were released to relatives or friends."
Harrison said he didn't want to "get into the politics of the situation" and noted, "The kids were afraid at first, but our teachers want the kids to feel like school is a safe harbor."
Elected officials, advocacy groups and lawyers decried the raids of the poultry processing plants east of Jackson. The industry relies on immigrant labor to work in cold conditions to cut, clean, debone and pack chicken.
"The ICE raids are both dehumanizing and ineffective as a tactic for protecting citizens from potential harm," Jackson Mayor Chokwe Antar Lumumba said in a statement. "These raids will only further alienate communities from law enforcement, disrupt community policing efforts and cause law enforcement to forfeit credibility and trust among the people they are sworn to protect."
Bill Chandler, director of the Immigrants Rights Alliance in Jackson, said the raids were part of US President Donald Trump's continued actions against immigrants.
"These raids are part of an anti-immigrant campaign that Trump has engaged in since the 2016 campaign," Chandler told China Daily. "The raids are meant to terrorize Latinos and get them out of Mississippi. Trump's racist reaction to the immigrants is appalling."
Cliff Johnson, director of the MacArthur Justice Center at the University of Mississippi, called the raids "political grandstanding".
"What did the government accomplish today by sending hundreds of out-of-state agents into Mississippi for the purpose of rounding up and detaining more than 680 of our hard-working neighbors and friends?" he said in a statement. "We're aren't one bit safer tonight — nobody believes these people were a danger to anyone. Families have been torn apart and local businesses have been hurt."