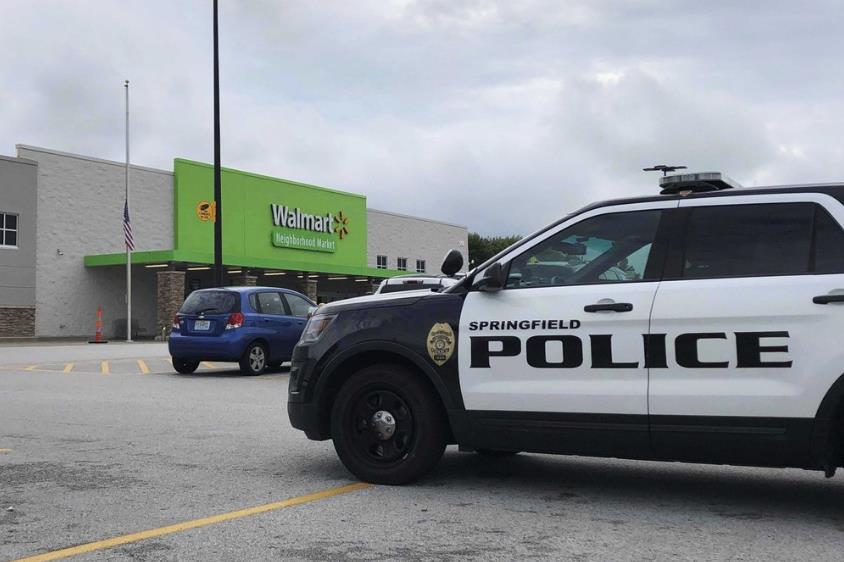 Walmart is pulling violent video game displays from its US stores following last weekend's deadly shooting at one of its stores in El Paso, Texas, that killed 22 people, but the nation's largest retailer said it has no plans to stop selling the videos, firearms or ammunition.
The electronics sections of Walmart stores have traditionally featured video game displays that sometimes feature violent games. Walmart said that the company told store managers to remove the displays because some shoppers could mistake the sounds created by the games for actual gunshots.
"We've taken this action out of respect for the incidents of the past week, and this action does not reflect a long-term change in our video game assortment," Walmart spokesperson Tara House said.
Walmart spokesperson Randy Hargrove said the move is a temporary one and stores will be evaluating whether the displays will eventually return.
According to the memo, employees were also ordered to turn off hunting season videos in the sporting goods department where guns are sold.
Walmart's action comes days after President Donald Trump condemned video games and said that they are linked to violent behavior. He has not cited which studies he believes back up his assertion There is no known link between violent video games and violent acts.
A day after the El Paso shooting, a man was arrested in Florida after threatening to attack a Walmart in Gibsonton, a suburb of Tampa. On Thursday, a man with a loaded rifle and 100 rounds of ammunition walked into a Walmart in Springfield, Missouri. Walmart store associates worked to evacuate the store while the man was detained by an armed off-duty firefighter and arrested by police.
Walmart has been fielding a deluge of calls this week, demanding that the store discontinue its sales of firearms and ammunition in the wake of the shooting in El Paso.
Four Democratic presidential hopefuls on Friday called on Walmart to stop selling guns. A Walmart spokesman declined to comment on the candidates' statements but said the company was reviewing its policies. 
Walmart, one of the largest retailers of guns in the United States, sells shotguns and sporting rifles in approximately half of its 4,700 stores. The company says it offers guns where hunting or clay shooting is popular, but not in certain states like California and not in "urban markets."
It stopped selling assault rifles in 2015 citing lower consumer demand. Walmart last year announced it would stop selling guns and ammunition to anyone under age 21. It also removed assault-style rifles from its website.
The Associated Press